How to get the most out of your trade-in?
September 11, 2022
•
3 Minute Read
RightRide

Negotiating at a dealership always requires some preparation and could scare some people away. But there is no need to fret, we have the right tips and information to help you get the most out of your trade-in. Before we dive into the details, it is important to know what factors influence the value of your trade-in. The year, make, model, mileage, vehicle type (sedan, SUV, truck..), market desirability (how much demand is there for your vehicle) and lastly the condition of your vehicle are the most important criteria for a dealership. Read on to learn more about how you can be successful in improving your trade-in value.
Get Your Vehicle Ready
Ensure your vehicle is presentable so as not to give the salesperson a reason to sell you short on your trade-in. Clean the vehicle from the inside out, replace the tires if they are too worn out and lastly, do any necessary bodywork and vehicle repair. However, a very important thing to keep in mind is to make sure not to spend more money on the vehicle than what you would be able to get back from the trade-in. So use your judgment to decide what repairs matter the most! Once you are at the dealership, you can also provide your service documentation to show them the work that has been done to the vehicle as additional proof.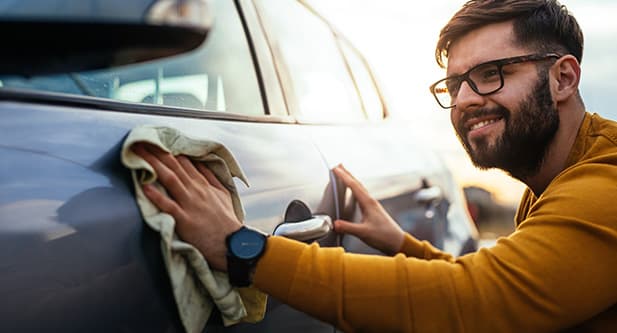 Negotiate Your Trade-In Value
While at the dealership, make a clear distinction between your trade-in and a new car transaction. Do not allow the salesperson to package them as a bundle, if they do, you are more likely to get less for your trade-in. Also remember not to look desperate, the salesperson might use that to make the most out of the deal. Be calm and composed and show that you are shopping around and have other options available. So stop by a few dealerships to see what quotes they provide you. You can also use the offers from other dealerships during your negotiations. And that's it! Now you have the necessary information to make sure you get the most out of your trade-in. Check out our inventory at RightRide to find your next vehicle.